30+ Artificial Intelligence Statistics for 2019
The use cases for artificial intelligence are boundless.
Businesses are using artificial intelligence to automate tasks, improve sales and marketing analysis, and even solve complex health problems.
While artificial intelligence platforms are a pioneering technology, most people cannot identify the different types of artificial intelligence and the variety of ways they can be deployed to improve business processes.
---
Artificial intelligence statistics
These statistics and background information provide insight into the most popular types of artificial intelligence and how they have impacted how businesses use (and will continue to use) technology in 2019.
Chatbot statistics
A chatbot is an artificially intelligent computer program that is designed to communicate with a human through auditory or textual methods. Chatbots are often used as customer service agents on a website's home page or automated responses on a business' phone line. Chatbots have machine learning capabilities which allows them to build off previous conversational data from a customer and use that to personalize future conversations.
Businesses can leverage the power of chatbots to initialize and engage in a relationship with a customer. Since plenty of users can be visiting website at the same time, it's helpful to have a machine that can answer hundreds of users at once rather than have ten or more customer service representatives juggle questions and requests from visitors. Chatbots are faster, less invasive and cut costs.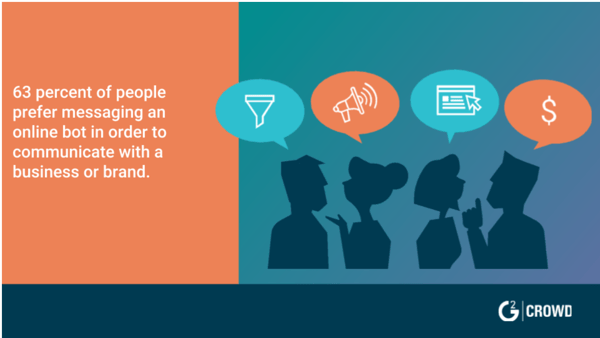 Discover the Easiest-to-Use Chatbots…
Virtual assistant statistics

A digital virtual assistant is a useful type of artificial intelligence that resides within a phone, tablet or computer and is designed to help users complete online tasks. This can include managing your daily schedule, answering simple questions and even turning on the lights in your home.
On the business side of things, Google is working on ways that will enable voice technology to automate tasks such as expense tracking, e-commerce, fleet management and email marketing. Since digital assistants are so dynamic in their use cases, expect them to grow in popularity over the next few years. Popular virtual assistants include Amazon's Alexa, Apple's Siri and Google Assistant.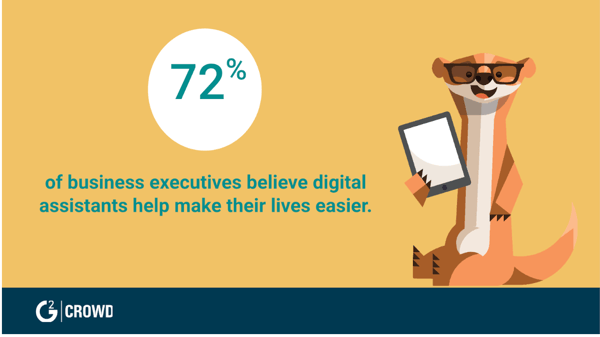 ---
Machine learning statistics
Machine learning is a process by which a computer uses historical data and to identify patterns and make decisions without the aid of a human being.
A prime example of this would be Netflix's film and TV recommendations. Every time you watch a show or film on Netflix, the service's artificial intelligence gathers data on types of films or TV you enjoy watching. It then uses that data to recommend similar types of television or films based on what you have previously watched. The more you watch, the more data it can use to accurately predict what types of entertainment you would like to watch in the future.

The use cases for this type of artificial intelligence are endless: It can help increase data security through intelligent security systems, financial trading, marketing personalization and online searches. Companies are becoming rapid adopters of machine learning as research has shown that "49 percent of organizations reported they were exploring or 'just looking' into deploying machine learning, while a slight majority of 51 percent claimed to be early adopters (36 percent) or sophisticated users (15 percent)."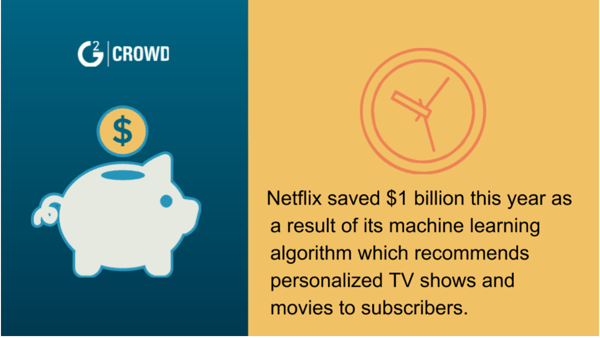 Read AI software statistics, updated in real time.
Get more data…
---
Artificial intelligence in sales and marketing
Artificial intelligence empowers sales and marketing teams to become more efficient and drive more revenue. AI tools like predictive content allow companies to crawl user browsing history and then tailor website content that will be more appealing to that user based on their interests and preferences. This enables marketers to create personalized one-to-one marketing experiences for every user who comes to their website.
Artificial intelligence can also help sales and marketing teams gather more leads with lead intelligence software. This allows companies to gather accurate data during the lead generation process and make better decisions on who is a viable potential customer and who is not. This allows companies to manage and analyze both internal and external data together to find and evaluate new business opportunities.
---
Final artificial intelligence projections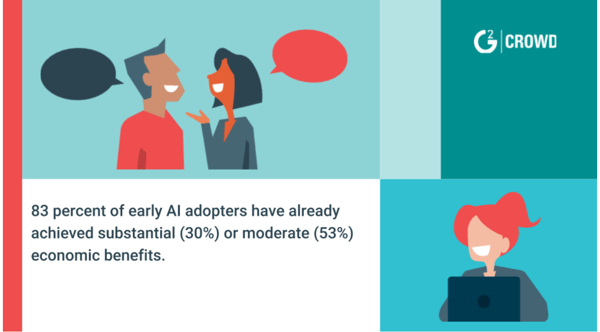 We've put together a takeaway summary of these statistics for you.Get the top Artificial Intelligence Statistics, FREE
Download Now →
---
Artificial intelligence is leading us into the future
85 percent of pioneers agree they have an urgent need for an AI strategy, and 90 percent say they have a strategy in place already. (MITSloan). The statistics speak for themselves.
Business leaders across the board seem to unanimously agree that artificial intelligence is one of the defining forms of technology that will change the way humans interact, move and work on a daily basis. You can learn more about AI in our article on 2019 AI trends.